TECH REVIEW - Bluetooth Headset
Sony Ericsson HBH-300 Akono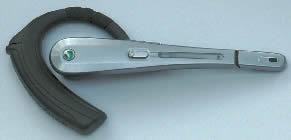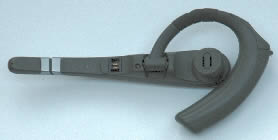 Another Sony Ericsson headset, another own goal for Sony Ericsson. I have to ask, when will they stop shooting themselves in the foot?
The HBH-300 Akono headset could have been absolutely superb. It is a very nice looking design, a pity that the two halves come apart within weeks. This didn't happen just once either, I had to buy 4 of the HBH-300 Akono headsets on company business, and all 4 broke the same way.
INCLUDED ACCESSORIES
The Sony Ericsson HBH-300 Akono is supplied with a Sony Ericsson mains adaptor for charging, a stand, and a manual. The stand is where everything starts going wrong; the main boom section of the Sony Ericsson HBH-300 Akono headset is made of 2 halves, and when placed in the stand, it would seem that the stand pushes the 2 halves of the HBH-300 Akono headset apart and breaks it.
TEST EQUIPMENT
For the purpose of this review, the HBH-300 Akono headset was paired to a Sony Ericsson P800 mobile phone and a Nokia N73 mobile phone.
USEABILITY
The Sony Ericsson HBH-300 Akono is very simple to use, although from a wearability perspective, I found that the hard plastic on the earpiece meant it had a tendency to slip out of position rather too frequently. Sony Ericsson would have done better by using rubber for grip, rather than hard plastic. In use, the HBH-300 Akono is switched on by a button on the main boom section, with volume buttons to raise and lower the volume on the top surface of the HBH-300 headset. Very easy to use.
Like the majority of Bluetooth headsets, this headset can be fitted on either the left ear or the right ear.
When switched on, the Sony Ericsson HBH-300 Akono headset has a translucent strip that is illuminated by a flashing blue LED - indicating that it is working and paired to a Bluetooth device. It's very nice, very pretty and everything, but it does make it fairly obvious you are using it, and thus draws attention to you. I would be wary of wearing it outdoors at night, since it might make the wearer a new crime statistic.
BATTERY LIFE
The Sony Ericsson HBH-300 Akono headset uses a permanently enclosed rechargeable battery. The battery life of the Sony Ericsson HBH-300 Akono headset is very impressive, easily as good as my older Sony Ericcsson HBH-35 headset, and certainly far in excess of the useless Sony Ericcsson HBH-65 headset.
BATTERY CHARGING CABLE
The Sony Ericsson HBH-300 Akono headset uses a custom connector for charging - a ploy used by most other short sighted companies in the mobile phone and accessory business too. In this case, the HBH-300 headset uses the incredibly badly designed Sony Ericsson phone connector. Yes, it means you can use Sony Ericsson phone chargers, but that only partially corrects for the poor design of the connector in the first place! It would have been better with a Mini-USB connector fitted, but then of course, the customer can't be gouged for yet more money.
AUDIO QUALITY - MOBILE PHONE
The audio quality of the HBH-300 Akono seemed good enough for the short time it worked before it fell apart. The boom microphone works well outdoors (with a bit of careful positioning, like any other boom microphone headset). Reception audio quality is very clear, and for the person at the other end, I didn't hear any complaints either.
TECHNICAL SPECIFICATION
Model Name
HBH-300 Akono
Model Number
HBH-300
Manufacturer
Sony Ericsson
Type
Bluetooth headset
Bluetooth Version (headset)
V1.1
Talk Time
10 hours
Standby Time
300 hours
Battery Type
Lithium
Battery Charge Type
Charged via standard Sony Ericsson mains adaptor
PROS
Good looking headset
Pairing seems OK
Works well outdoors
CONS
Falls apart
Questionable build quality
Custom charging connector
Slips off the ear rather too much
CONCLUSIONS
Looks nice but falls apart relatively quickly, due to a very stupid design flaw. The last time I will buy a Sony Ericsson headset. Avoid.
| | |
| --- | --- |
| Sound Quality: | 4/5 |
| Battery Life: | 4/5 |
| Bluetooth Connectivity: | 4/5 |
| Ergonomics: | 2/5 |
| Build Quality: | 0/5 |
| Overall: | 2.7/5 |